I get it. We are pretty cool.
Our mission is to provide fun, friendly, and safe opportunities for our community to create and connect. We create happiness!
We are always accepting applications and on the lookout for the next amazing team member! If you'd like to help us bring a little creativity and happiness to the world, please read the job description/requirements on this page and complete an application at the link below.
Effective October 2021: We are currently hiring Team Members and Team Leads (18+). Weekend availability is required.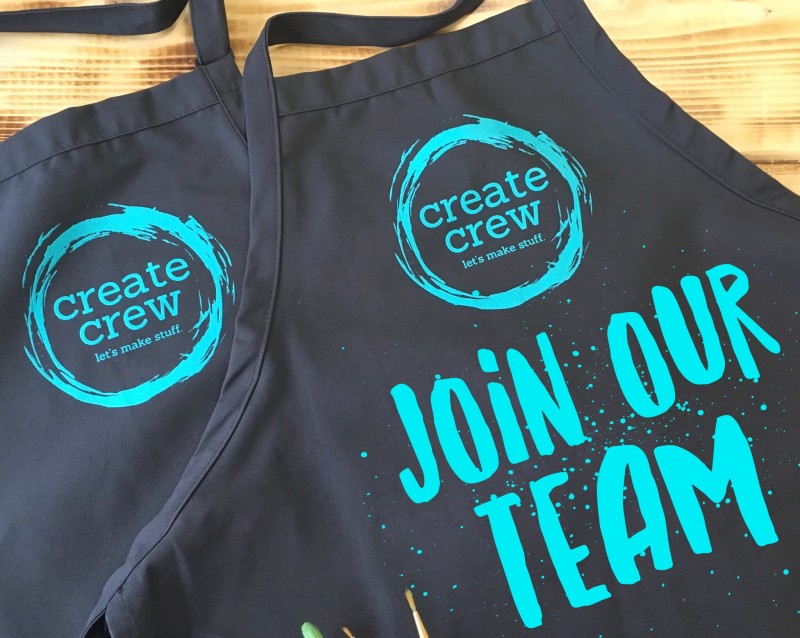 Please note that while we are always accepting applications, we may not be hiring at the exact moment you submit your application. We will contact you by email if you seem to be a good match! No phone calls, please.
Get a glimpse at what is involved in being a member of the TPS Create Crew.
Job Titles: Team Member or Team Lead
Reports to: Team Lead or Assistant Manager
Working Days: Variable, must commit to at least one weekend shift.
Working Hours: Part Time. The average shift is 7 hours.
Team Member: Two to three shifts per week
Team Lead:

Minimum of three shifts per week
The perfect applicant is someone who uplifts the creative experience for our guests. We are looking for someone who will have the personality, patience, and enthusiasm to thrive in this role. Art experience is NOT necessary! 
Team Member responsibilities include:
Greeting, assisting, and serving customers

Providing accurate information to visitors on products, techniques, pricing, etc.

Providing clear and easy to follow instructions for visitors of varying experience levels and ages
Maintaining a clean and organized workspace, including cleaning the studio, tables, and supplies
Multi-tasking while working the studio floor and assisting guests, including answering phone calls/texts in a friendly and efficient manner and taking table reservations
Using Square POS and iPads to check out guests and handle cash and credit card transactions accurately and completely
Wrapping finished customer orders for pick-up
Processing orders, including matching and contacting finished orders
Leading and instructing parties and workshops for kids and adults in a confident and efficient manner
Putting away inventory and supply orders as they arrive and restocking shelves and supplies as needed.
Maintaining a clean and professional appearance
Contributing to the team environment at the studio by learning from and effectively communicating with teammates.
Team Lead responsibilities include all of the above, as well as:
Running the studio independently, including opening/closing the studio
Assessing and prioritizing daily/weekly studio tasks
Problem solving and positively resolving customer or studio issues
Assisting with employee training
Leading events and/or workshops as needed
Working in the backroom processing orders (glazing and loading kilns). Training provided, no experience necessary. 
Physical Demands
Lifting of boxes and/or supplies between 5-50 pounds
Working 6+ hours on your feet
Stretching, twisting and bending to load/unload kilns or clean
Crouching, stooping or kneeling to stock or retrieve pottery or clean
Climbing to retrieve pottery or clean
Fine motor skills
Follow us on Social for More Fun